THERE IS A DIFFERENCE WITH SOPKO!
Made from superior QUALITY alloy steel and heat treated for optimum performance.

Tapers are PRECISION GROUND at both ends of the collet chuck extension adapter.

The extension body is GROUND for concentricity.

The hardened collet nut has a precision internal taper that seats PRECISELY against the collet nose-angle to insure PROPER ENGAGEMENT of the grinding wheel shank.

Ideal for older Cincinnati flat belt center drive grinder spindles. The set includes a 1/4" 6000 series collet 59108, collet nut 59125, and floating nut spacer 00662 (FN-1). A 1-1/4" wrench flat on the body makes installation and removal easy. The hex spindle nut must be selected separately to suit your machine.
SOPKO
CATALOG NO.
SOPKO PART NO.
00757
C200-CCEA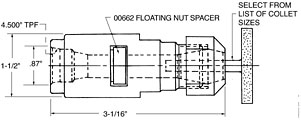 6000 SERIES COLLETS*
RANGE 1/8" TO 1/2"

SOPKO
CATALOG NO.

COLLET CAPACITY
59100
1/8
59102
5/32
59104
3/16
59106
7/32
59108
1/4
59112
5/16
59116
3/8
59120
7/16
59124
1/2
59125
NUT
*Additional collet sizes are available on special order.