Adapters for Rockwell, Rockwell-Delta,
Rockwell-Milwaukee Grinders, Harig, and
Model 25 Grinder Manufactured by
Gallmeyer & Livingston Co., Grand Rapids, MI.
3.000" TPF, 4.256" TPF, AND 4.250" TPF WITH 0.87", 1.00", AND 1.12" DIAMETER
AT LARGE END OF TAPER. FOR 1.250" ID WHEELS.
The Gallmeyer & Livingston Model 25 Grand Rapids Hydraulic Feed Grinder adapters feature a SHROUDED DESIGN to keep contamination away from the spindle. State of the art THREAD GRINDING of the hub, and CONCENTRIC AND SQUARE GROUND FLANGE SURFACES provide better workpiece finishes because the grinding wheel is locked precisely against the adapter face. Lasting quality, performance, and value are optimized with HEAT TREATING and BLACK OXIDE FINISH.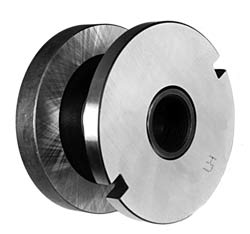 00528